Happy Thanksgiving!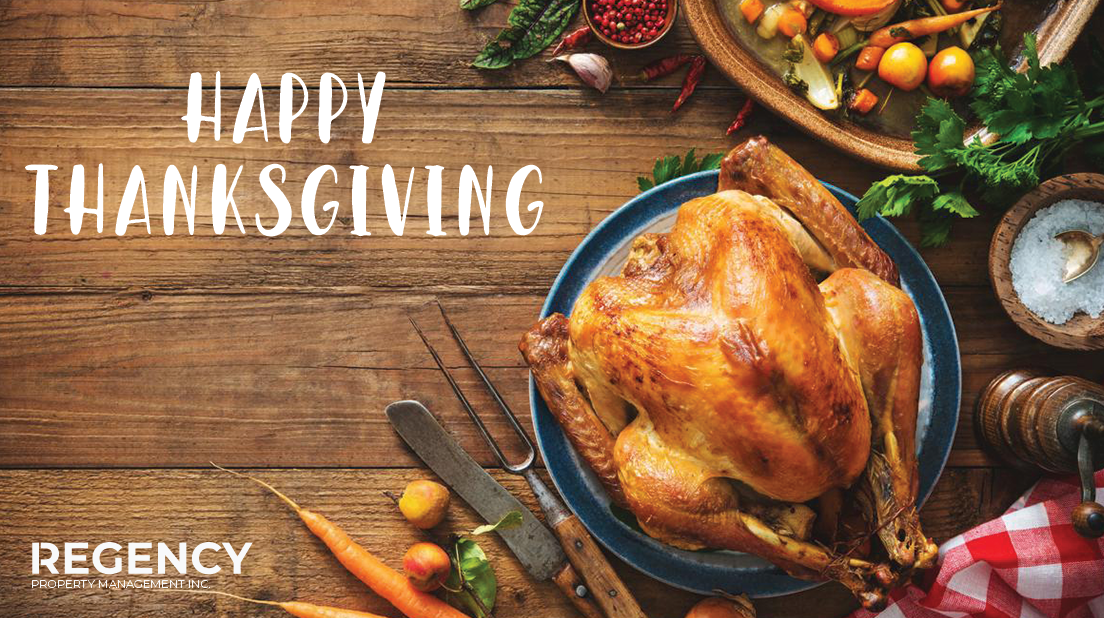 WHAT ARE YOU MOST THANKFUL FOR?
---
All Regency Property Management offices will be closed Thursday, November 25 and Friday, November 26 so our staff can spend time with their friends and families for the Thanksgiving Holiday. We are so thankful to have met & worked with each and every one of our tenants whether you're new, or have been around for several past holidays. Thank you all for continuing to make a Regency Property managed apartment community your home, and please let us know if there is anything we can do to keep it that way.
CELEBRATE WITH FAMILY AND FRIENDS
Thanksgiving is a chance to enjoy time with family and friends over an abundant meal. However, attending a party and hosting the Thanksgiving celebration are two different things entirely. While an apartment may present some unique challenges, the answer is to get creative and embrace some new strategies. Here are some non-traditional Thanksgiving ideas to help get you through the holidays!
GET CREATIVE WITH THE MENU
While the classic thanksgiving dinner menu is widely popular and always a good choice, having all the different dishes scattered around the kitchen and trying to cook several things at once may not be the best option. Here are a few non-traditional ideas to serve food to your friends and family:
Tapas Bar – A fun take on small plates that may include charcuterie, cheeses, hummus, grilled shrimp, antipasto skewers, stuffed mushrooms, meatballs, or a frittata.
Pub Fare – Some local craft beer would be an excellent complement to a comforting and crowd-pleasing shepherd's pie. For a simple and delicious starter, bake off a good quality brand of frozen soft pretzels and serve with warm cheese dip.
Dessert Soirée – Why not focus on everyone's favorite part of the meal with a dessert party! Best of all, a local bakery can be a convenient source for delicious cakes, pies, and cookies – saving you a messy kitchen!
Retro Fondue – A fun party idea this holiday season is to return to yesteryear with a fondue night! Simply assemble meats, cheeses, bread, vegetables, and apple to accompany a gooey cheese sauce. Also, don't forget fruit and cake to dunk into decadent chocolate for dessert. Don't have a fondue pot? No problem, a crockpot set to low will keep dips at the perfect consistency for endless dipping.
SMALL RENTAL SPACE? NO PROBLEM!
When you are hosting Thanksgiving, every available surface can serve a purpose. Not only will utilizing various surfaces help accommodate all of the delicious food and drinks, but it also helps guests spread out and feel more comfortable in small spaces. So, consider using a desk, coffee table, or end tables to stage different party snacks, drinks, or food throughout the home.
As a reminder, our Verona locations both have a community room that can be reserved for just a few hours, or the entire day. This space includes a full kitchen, access to a bathroom, table and counter space as well as seating for several guests. Please consider reserving this space in the future for any large gatherings you may have!
Cleaning up is often the most dreaded part of hosting Thanksgiving. Especially in small apartments, this pile-up of dishes, cups, and platters can become overwhelming. Thus, putting a damper on your holiday spirit. Thankfully, disposable dinnerware and party supplies have become far more classy in the past few years. So, why not skip the mess and spend less time cleaning and more time enjoying the festivities?
Hosting Thanksgiving can be a lot of fun, but tenants must be mindful of their neighbors, landlord, and lease in a rental. Therefore, inviting guests and entertaining requires some added preparation. So, be sure to keep the following in mind as you plan holiday festivities:
Obey the Lease – Besides following any local ordinances regarding gatherings, tenants should consult their lease for any further restrictions. After all, having a great party is not worth it if you risk violating the rental agreement terms.
Be Reasonable – There is a lot you can do to maximize small spaces when entertaining. However, limited space means tenants cannot allow the guest list to get out of hand.
Maintain Control – Everyone loves to have a good time, but renters must be mindful of their neighbor's right to quiet enjoyment. In other words, the tenant must maintain control of their guests and ensure the party does not become too loud or rambunctious.
Protects Guests and the Property – Anytime a tenant invites guests over, there is added risk of safety concerns or damage. So, it is vital to take steps that protect the rental property from damage. Also, keep in mind that some guests may be unfamiliar with the space. So, do your best to remove any potential tripping hazards and safeguard breakable items.
Thank you!